Below are lots of photos from our Residential trip last year. Have a look at the exciting activities we got up to!
Scroll down towards the bottom of the page for further information about the trip including FAQ's and the all-important kit list.
Our final morning was another busy one! We enjoyed climbing and archery! The weather has been good to us for the whole trip! We are now on the coach on our way home! Get the washing machines ready!
This afternoon has been a fun-filled double session on the water! We went canoeing and kayaking! It was a great opportunity to try out the two different vessels!
We've just finished a fab dinner and now getting ready for our evening walk! We think there will be some tired children tonight!
A few pics from this morning! So far we have conquered the underground maze and group 1 have been crate stacking while group 2 worked on their bike skills. Lunch was another delicious- and huge - meal, so we are well fed for canoeing this afternoon!
This evening, we finished up with abseiling! It was quite high and a little bit scary but everyone gave it a good go! Well done! Getting ready for bedtime now, to recharge for a fun-filled day tomorrow.
We are having a great time! Take a look at a few pictures from our first session! Tonight it was chicken Kiev, or pork steak, or steak pie or vegetable chilli for dinner! We have refuelled and we are raring to go for our evening activities!
Manor Adventure
Monday 5th July to Wednesday 7th July 2021
We are excited about our upcoming visit to Culmington Manor in Shropshire. We will have a fun-filled three days, packed full of adventurous activities. You can find more information on this page to help prepare for the trip.
While we are there, we will be sharing messages and photos on this page for you to see how much fun we are having!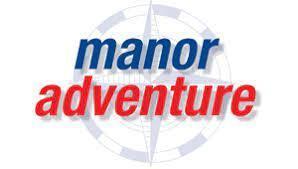 Frequently Asked Questions
What time do we leave/arrive?
Children need to arrive in school at the normal time on Monday 5th July 2021. You should come to the hall instead of the classroom to drop off your luggage. We will be doing team-building activities in the morning before we head off. The coach will be leaving around 12:30 to arrive at the centre for the afternoon. Parents are very welcome to come and wave us off!
On Wednesday 7th July 2021, children will leave the centre after lunch and will arrive back at school at approximately 3:30pm. We will send a text once they are on the way to inform parents of traffic conditions.
Do we need a packed lunch?
Children need to bring a packed lunch for the first day. All other meals during the visit are provided by Manor Adventure. We recommend an extra snack and drink for the first day as it is a long journey. All children must bring a labelled water bottle which can be re-filled.
Can we wear jewellery?
Children can only wear a single pair of stud earrings. These should be able to be removed or covered for some activities. Some children may like to wear a watch, but they may be asked to remove it for some activities.
Can we bring deodorant?
No spray deodorants are permitted in Manor Adventure centres. Roll-on types are absolutely fine.
Can we bring sweets/money/phones/electrical items?
No. Sweets, drinks (other than water) and other food items are not permitted in children's rooms. Children do not need any money and must not bring electrical items. We do recommend a small teddy and books, travel games or similar for free periods.
What if my child has medical needs?
Please complete and return the Medical Information Form to the school so that we are aware of any additional needs. Any medicines that need to be administered must be handed to Mrs Bowers in the morning before leaving. Children with asthma will need to carry an inhaler at all times and will not be permitted to take part in any activities without it.