School Meals for Autumn Term 2022
School Meals for Autumn Term 2022
21 July 2022 (by Hayley Armstrong (admin))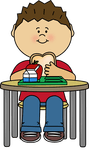 The school dinner menu for Autumn Term has now been released. Please login in to your ParentPay account to pre-order your child's school lunches for next term.
If you do not make a selection for any given day, it will be assumed that you will be providing your child with a packed lunch.
Food orders are placed with the kitchen on a Monday for the full week so it is not possible to make changes to your submitted order on a daily basis. A minimum of one week's notice is required to amend meal choices.
Thank you.